På svenska tack!     
We hope you will enjoy the stay in our apartments and studios
IMPORTANT INFORMATION
STUDIOS AND APARTMENTS
Single or double bed depending on your reservation
TV with Chrome cast
Internet connection WLAN – password in your studio
Free WiFi
On site laundry – free to use
FULL SERVICE:
(provided each 7 days- weekdays or every day depending on your booking) includes dusting, vacuuming, changing linens and towels, emptying trash, cleaning of bathroom and kitchen, and replenishing soap and toilet paper if needed.
* * Dishwashing is not included in any housekeeping service
Kitchen – Refrigerator w small freezer, microwave oven, stovetop, toaster, coffee maker, cooking utensils, dishes, and cutlery.
The equipment in the kitchen may vary depending on size of the studio
​
Our studios are situated in the city center with shopping, supermarket, restaurants and pubs nearby
PLEASE NOTE:
* Please read our sorting garbage guide in the studio
* Check in after 2 PM/14,00
* Check out before 11AM/11,00
* Weekly cleaning and final cleaning does not include dishwashing (280SEK/time)
* All apartments and studios are 

NON-SMOKING 

If a guest breaches the smoking ban, the hotel is entitled to charge the guest for ensuing costs – you will be charged for 7 nights
*

Please read our safety instructions in the room and note that if you cause a false firealarm we will charge the costs from the fire department in Karlskorna (approx 8500 SEK)
OPTIONAL SERVICE
Dishwashing 280 SEK/time
Daily Breakfast Service 130 SEK per person/time
AT DEPARTURE
Please leave the apartment as you found it at arrival
Final cleaning at departure is included in the price,
OPTIONAL DEPARTURE CLEANING
If we need to/ or upon request do extra cleaning, remove garbage, boxes, furniture, packaging or do the dishes, we will charge 2850 SEK.
PAYEMENT
Payment by credit card or invoice as ska done each turn of the month and/or the day before departure. If you fail to do so the hotel is entitled to a late-payment fee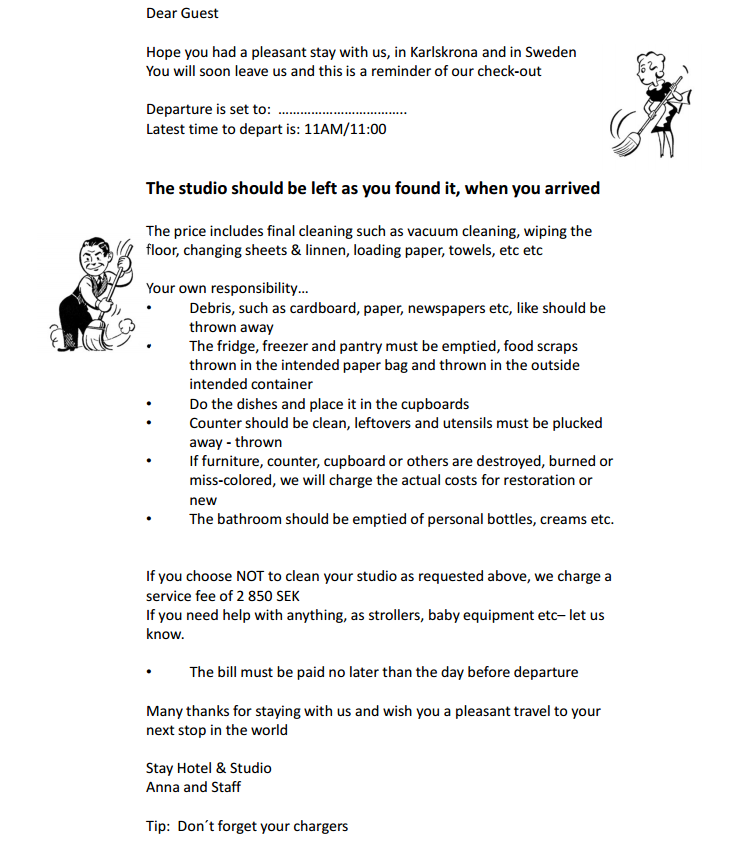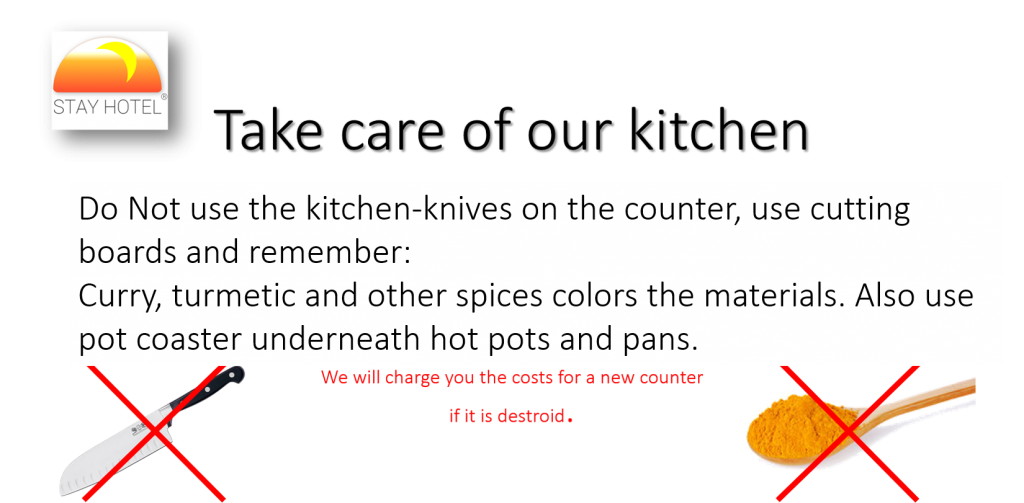 Terms & Conditions
BOOKING AND CONFIRMATION
A booking is binding once it has been confirmed and you have received a booking reference. This may be given verbally, in win email, writing or through the booking system. When making a booking, you are required to state your name, address, arrival and departure time and method of payment. Different rules apply for different rates, see detailed rate information. To book a room at Stay, you must be at least 18 years. You who book the room for a minor are liable regardless of whether you stay with the minor in the room or not. For security reason we only allow our staff members and checked-in guests in our hotel rooms and other reserved premises.
ARRIVAL AND DEPARTURE
Times for arrival and departure vary depending on the booking and rate at which you made your booking. Read our detailed rate description with information carefully for your particular booking here.
CANCELLATION AND NO ARRIVAL
Cancellation rules vary depending on the rate at which you made your booking, please read the detailed rate information carefully. Unless otherwise agreed at the time of booking or the rate you have chosen has different rules, cancellations can be made up until 6 pm local time of the hotel on the day of arrival. If you fail to arrive without cancelling in advance or if you cancel after 6 pm, you will be charged for one night for hotel room or seven nights if you have booked an apartment If the hotel has incurred costs specifically related to your booking, you must also reimburse these.
EARLY DEPARTURE AND OPEN-ENDED STAYS
If you have booked for a particular time period but depart earlier, it may result in price adjustments. Contact the hotel to notify your departure. If you stay at the hotel for an open-ended period and extend your stay by one night at a time, you should notify the hotel of your departure by 6 pm the day before. Otherwise, you will be charged for an extra night. If the hotel can no longer keep the room available for you, you are entitled to be informed of this fact by 6 pm the day before departure is required.
THE HOTEL'S OBLIGATIONS AND YOUR OWN REQUIREMENTS
If the hotel cannot give you a room as agreed, you are entitled, at no extra cost, to an equivalent or better room in the hotel or at a hotel of an equivalent standard. Specify your requirements at the time of booking to be sure that the hotel is properly prepared. All of rooms at our hotel are non-smoking. If a guest breaches the smoking ban, the hotel is entitled to charge the guest for ensuing costs. If you wish to bring a pet with you, please make this clear at the time of booking.
PAYMENT
Payment in advance is required for certain room rates. Read the detailed rate information. The amount paid will be deducted from the final bill. If you cancel the room after the cancellation deadline, the hotel is entitled to retain the booking fee/advance payment. In general, the hotel bill must be paid on receipt, usually on arrival at the hotel. All our hotels accept the most common credit/debit cards. However, the hotel is not obliged to accept credit/debit cards, cheques, vouchers or foreign currency unless the hotel has volunteered to do so.
STORAGE OF VALUABLES AND LUGGAGE 
Do not leave valuables or luggage unattended in the lobby upon checking in or checking out, at breakfast or when you are waiting for a taxi. Due to security reasons, the hotel is not obliged to store property of high value or property that could endanger the safety for hotel staff or guests. The hotel has no strict responsibility for property that you keep in your hotel room or in the luggage storage.
YOUR OWN SAFETY
Always note where the emergency exits, alarm buttons and fire extinguishers are located. Check the information on the back of your hotel room door.
PROCESSING OF PERSONAL DATA
Stay Hotel processes personal data regarding people who use our services and products. Stay Hotel is controller of personal data related to your booking.
The personal data you provide is used by Stay to maintain, administer, monitor and receive payment for the services you have reserved. The foregoing also includes communications which remind or inform you regarding your reservation or offers and information connected to your reservation before, during and after your stay.